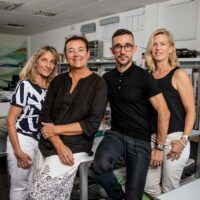 We'll help you choose your perfect bed to fit your bedroom, choose from a range of beds, bed bases, headboards customisable to the fabric and colour of your choice. We'll also deliver your bed and install your headboard to your bedroom and remove your old bed if needed.
Explore our range below, find the bed, headboard and bedbase you like and contact us to get started!
Beds
Choose your bed and then customise it with the fabric and colour of your choice
Bed Bases
From storage to simple bases, choose the bed feet you like and customise the colour and fabric
Headboards
All our headboards come in a range of fabrics and colours
Why don't you display prices on your furniture?
As our prices are changing regularly – both up and down – in this current climate we prefer to give you the most up to date price from our suppliers.
How can we make sure the item will fit in our home?
This is a good point! We'll provide you guidance how to you measure your room, if you have a floor plan we can create a mockup for you too.
If delivery involves stairs we will ask you to measure your stair case to make sure we can get large items to your room of choice.
How long does it take to deliver an item we have purchased?
This really depends on our suppliers and if you have any customisations. For example sofas and beds with your choice of fabrics usually take between 6 to 8 weeks. However most furniture can be delivered within a few weeks. We will let you know once you have made your choice.
Can you help remove old furniture we don't want?
Yes, just tell us before hand and we will remove any unwanted furniture for you.
Will you deliver the item to our room of choice?
Yes, no problem – our delivery team will place the furniture in your room of choice – just let us know before hand if there are any stairs involved – you may need to measure the width of the stair case to make sure your furniture will fit before hand.
We don't live in Spain, can you still deliver the item before we arrive?
Yes of course – we are happy to liaise with your key holder to place any furniture you purchase with us – and we will send you photos once installed so you can see how lovely everything looks! Just contact us and we will take it from there.
Everything under one roof
We offer more than just furniture, from curtains to carpets,  bed linen to lighting, we offer a full range of products and services for your home.
Rely on our experience
With more than 25 years experience in Spain, we've helped hundreds of customers realise their dream home whether a studio apartment or luxury villa.
Fantastic quality at great prices
We only offer good quality furniture at great prices from trusted suppliers from Spain and Italy.
An easy way to furnish your home
Browse our furniture packages
File size: 4mb, pdf format